---
Send Love, With Me, 2021
Web Exploration
In times of quarantine, I was left by myself with my own thoughts more than usual, confined to my own space. I realized how crucial reaching out and communicating and keeping the strengths of relationships with loved ones are. But how do I approach that?
I decided to explore the notion of language, through the possibilities of tools of communication. Themes of intimacy, longing, and loneliness were explored. The projects are concerned with tackling the idea of intimacy and proximity through different ways of expression. A reflection on different ways to communicate.
Send Love, With Me, explores the notions of messaging loved ones while also allowing people to reflect through my journey of exploring these themes through these tools.
Send Me a Postcard Sometime explores traditional forms of communications such as postcards in digital space while also being prompted ideas on what to say.

Tone of Voice explores how language is conveyed through typography and how that can be utilized visually.

Alone Together takes in the content of sent text messages from various people. Common keywords amongst the messages are then isolated to highlight an atmosphere of intimacy and loneliness
Send Love, With Me is a great form of putting puzzling pieces together of my own mind, that allowed me inputs to express and process how I speak but also gave me the opportunity to reflect on what it means to really listen to myself and how I want to communicate to loved ones.






The Three Digital Tools: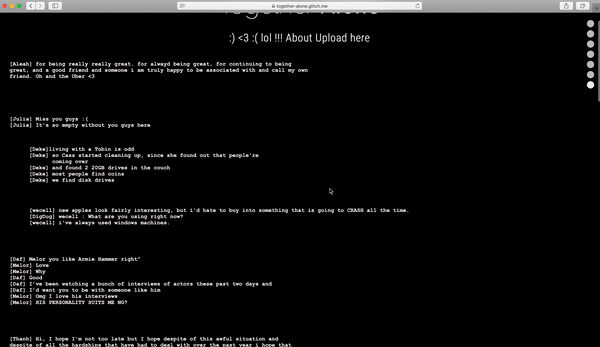 ---
︎︎︎OTHER PROJECTS︎︎︎