---
---
Software: Adobe InDesign, Illustrator
Icarus is a children's book inspired by the infamous Greek Mythology characters of Icarus and Daedalus. The story was written and illustrated aimed to explore Icarus' naive and ambitious character who flies too close to the sun. This book was in partnership with DERT Books, a non-profit organization aimed to promote literacy amongst children.

---
Alone Together, 2020
Web Exploration
Technique: digital Software: Figma | Adobe Illustrator
Alone Together is a project that focuses on creating a digital space to illustrate loneliness and togetherness through the concept of archiving conversations. It is a space consisting of various screenshotted conversations collected from a multitude of people.



---
Send Me a Postcard Sometime, 2020
Web Exploration/Coding
Technique: HTML/CSS/Javascript

Software: Adobe Illustrator/Glitch
Send Me A Postcard Sometime was inspired by the collection of postcards received from loved ones. After carefully examining the type of language in these postcards, I noticed repetitive words used.
Utilising this idea of clipped communication, I wanted to create a protocol that would instruct users to create a message to loved ones out of these repetitive words.
︎︎︎Read More Here
---
Cari 123, 2020
Branding, Logo Design
Technique: Digital
Software: Adobe Illustrator
Logo design for a startup tech company located in Indonesia, Cari 123. Cari in Indonesian translates as find. Utilising that meaning, I created a logo of the C with an eye that would be able to stay consistent as well as change colors accordingly when needed.
---
---
Books as an Interface, 2020
Coding, Typography
Technique: HTML/CSS/Javascript
Software: Glitch
Exploring the fascination for collecting physical books and the relationship of its text on screen vs paper

Texts taken from The Warmth of Other Suns by Isabel Wilkerson and How To Love by Bell Hooks respectively
︎︎︎Read More Here
---
Writing to You, 2020
Typeface Design/Exploration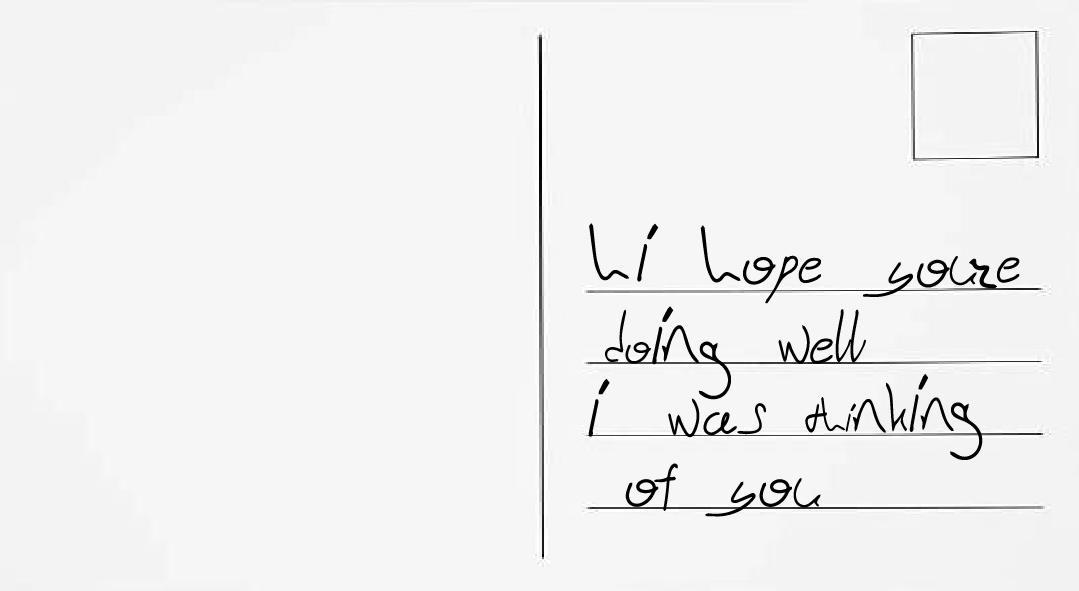 Technique: digital


software: Adobe Illustrator
I want to still explore the identity and comfortability of self through display of language that can be seen in a typeface. They are then translated onto postcards that will be sent to people.
The intention is to translate from the images of the screenshot conversations from my project
Alone Together
to text and designing a typeface that would help emphasise the intimacy of these texts.
The loose design is inspired by my own handwriting and my own perception on intimacy with others and I would like to explore in the future on how tone of voice could be translated to typography based on how other people speak to their loved ones. This is an ongoing project and will be developed further.
---
Kaleidoscope, 2019
Branding, Art Direction
Technique: digital Software: Adobe Illustrator | Photoshop | InDesign
Kaleidoscope is a children's clothing brand that caters a playful and vibrant identity aimed to be gender-neutral for children ages 6-12. The wordmark logo was designed to illustrate its rounded, groovy and retro personality. The name Kaleidoscope was inspired by it's constant everchanging tiles of patterns and colors that fits perfectly with children's evergrowing growth in themselves, how they dress, and who they want to be.

︎︎︎Read More Here

---
Sundaes & Cones, 2019
Re-brand, Art direction
Technique: digital
Software: Adobe Illustrator | Photoshop | InDesign


Sundaes & Cones is a rebrand of an existing restaraunt located on the lower east side of Manhattan, New York. This rebrand aims at playing up a narrative of playfulness and nostalgia through sketched out character designs. Inspired by quaint moments one has at an ice cream parlor with loved ones, Sundaes & Cones is filled with the essence of people in New York City.
︎︎︎Read More Here
---
Technique: digital
Software: Adobe InDesign | Photoshop
Select pages from The World of Studio Ghibli; a book. consisting of collection of articles related to the films by Studio Ghibli, beginning with an interview with Hayao Miyazaki, founder of the Ghibli films.

---